About us
Macrina is a fun and colorful lifestyle brand that started in the summer of 2019 out of Angela's bedroom in Monterrey, Mexico.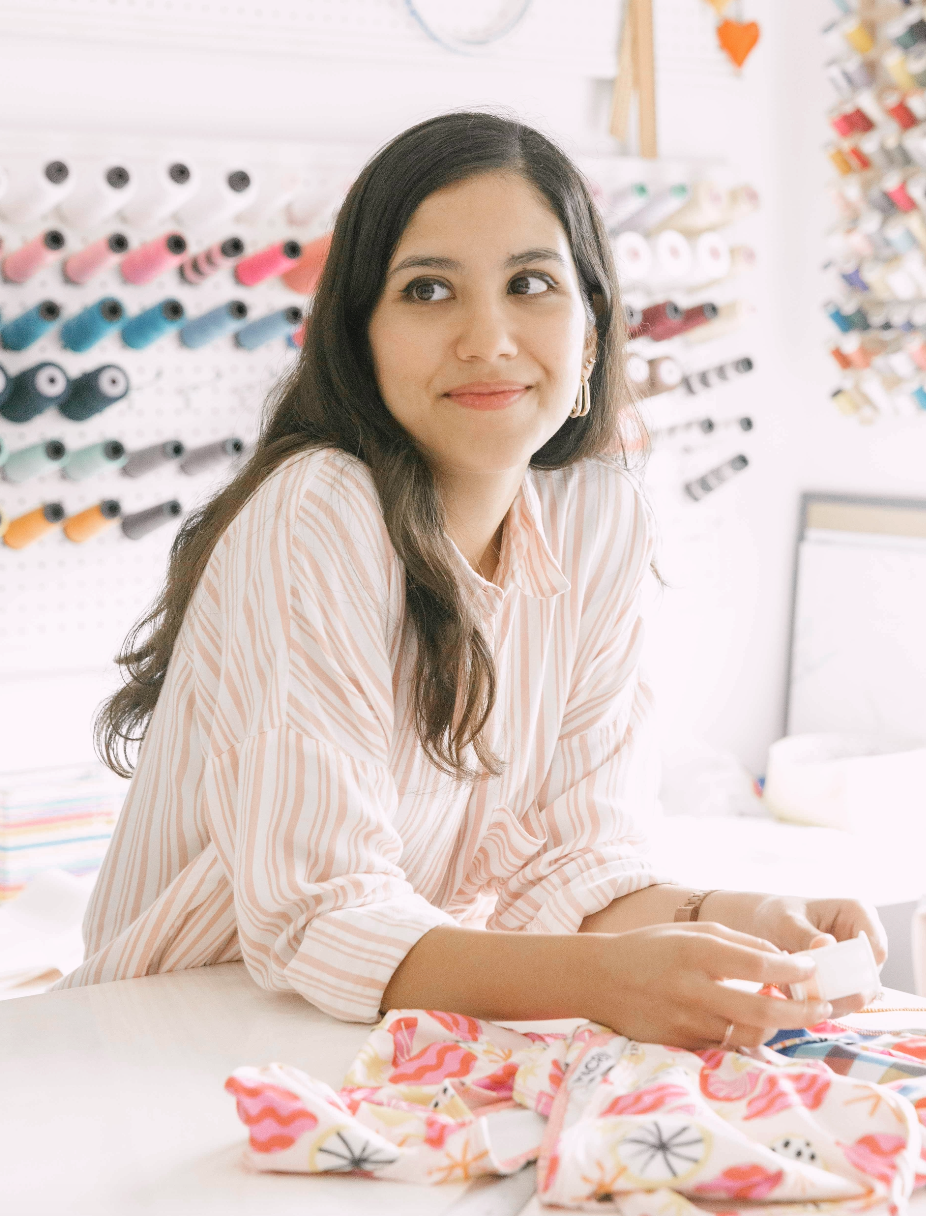 Hi, I'm Angela
I created Macrina because I wanted unique pieces of clothing that only lived in my imagination and nowhere else! Believe me, I tried finding them before I decided to make them myself!

I'm passionate about hand making practically anything, if I'm not behind a sewing machine you'll find me immerse in a creative DIY project. 
Macrina is all about creativity, craftsmanship and fun. As a maker myself I am passionate about creating a fashion business that is ethical, inclusive and environmentally friendly so my customers can find the perfect pieces to express themselves while making better shopping decisions and buying fashion with a clear conscience. 
We are constantly working on becoming a positive impact brand

Learn about our efforts in this slideshow

We know handmade clothes sound like ancient history, but guess what? It's pretty cool for you and the environment!!

Here's the thing, we strive for zero waste and the way to get there is by making each piece carefully and consciously...and by hand of course!

All of our items are made to order! This means that as soon as we receive your order we get to work! Starting with cutting your garment, then sewing and making sure every detail is perfect. 

Cutting each garment one by one helps us reduce waste in a major way. First, because we get to fit the pattern pieces like a puzzle on the fabric making sure we waste as little as possible. And second, because we only cut what we need and as a result we prevent excess waste or stock. 

Our in house workshop is a magical place where your garments get made from start to finish! Can you imagine?

There's a small, colorful and solar powered place dedicated to the creation of your piece, just for you! Our tiny (but mighty) team is thinking of you every stitch of the way!

Once we have you order ready, we pack and ship, our production has a longer waiting time than the speed of fast fashion brands, but waiting... is soooo worth it!

We will make it worth your while and you'll receive cute stuff made just for you that is made to last!!! Sounds too good to be true?

It's not! We seriously deliver!
Get to know the wonderful artists we collaborate with. They help us create amazing prints for our textiles.
Karla Velazquez
Illustrator and designer

@karlopsia

Paulina García
Illustrator and animator

@linagarciart

Lucia García
Illustrator and product designer

@linee____